About Us
By offering a wide range of steel products and placing a strong emphasis on premier customer service, Gordon Bros. Steel Warehouse has grown over the years to be a competitive supplier of hot rolled and cold rolled steel, stainless steel and aluminum products, as well as ornamental iron.
Company History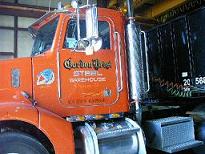 Founded in 1910 by brothers George and Samuel Gordon soon after arriving in the United States from Russia, Gordon Bros. Steel Warehouse, formerly Gordon Bros. Iron and Metal, began as a horse-and-buggy operation buying and selling scrap metal.

With growth and expansion driven by three generations of family members, Gordon Bros. Steel Warehouse has a warehouse and office facility and operates its own fleet of trucks, buying and selling many tons of steel each year and running two shifts daily. Presently, the company employs office and sales staff, truck drivers and warehouse workers.
Over the past 90-plus years, we have grown to respond to the many changes in our industry. However, one value has remained constant since our founding: dedication to serving our customers above all else.